10 Legal Tips for Startups - Part 1 of 2 : Managing Risk
.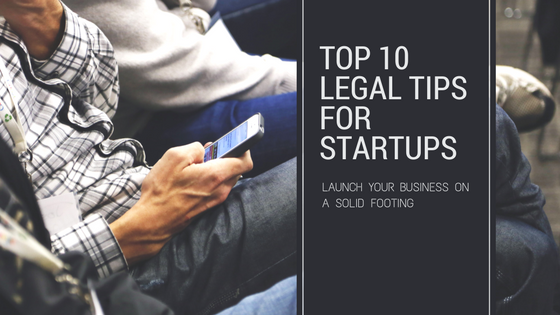 "Not getting a lawyer to help you from the outset is like building a house without a solid foundation — the bricks will begin to crumble at some point. Simply put, the "right" lawyer helps you manage risk." Gigio Ninan, Forbes Magazine
Startups have legal needs but struggle to find the right legal support for their business.
This blog is Part 1 of our refreshed two-part series where we share with you our top 10 legal tips for startups and explain how each of them can help you "build your legal foundations" and put your business on a solid footing.
Startups have a million and one demands, from product development and marketing, to scale growth, to hiring and finding the right office. In the midst of that action, searching for appropriate legal support may seem like a complex and daunting process. Legal support just does not make it to the founders' priority lists.
And let's not forget, that traditional legal services can be incredibly expensive. It is natural that lean boot-strapped startups will look to minimise all but essential expenditure, and legal support is often one area where spend is held back. But at what risk?
Unfortunately, the need for legal support is real and it kicks in very early on in the life of a startup. As Ninan noted, if you don't get help from the onset "the bricks [of your house] will begin to crumble at some point". At that point, most startups will look for and use DIY solutions, which may or may not be a good idea depending on the founders' appetite for risk and the complexity of the business. However as Mark Goh wrote in TECHINASIA: "One in 10 startups fail due to legal reasons, many of which could have been avoided if basic legal matters were taken care of properly."
The good news is, being a startup ourselves, we also recognise the need for early legal support. It's not as hard as you think and there are some great and affordable options in the market. No longer is a law firm the only option for legal support. The advent of NewLaw has lead to more affordable flexible people models and support through LegalTech. With this in mind, we'd like to share with you our top 10 legal tips for startups to help your business start off on a solid footing.
Our 10 legal tips for startups
1. Choose the right legal structure
Which legal structure (sole proprietor vs partnership vs limited company) is most appropriate for your business model? Each structure has different legal consequences for your startup and you as a founder.
2. Put in place the Founders/Shareholders Agreement
Wasting time fighting with your co-founder is a sure way to sink your startup. Get a founders' agreement or shareholders agreement in place early.
3. Don't sit on it, solve it!
You have an issue (or you think you will have an issue), get legal advice early and solve (or better prevent) the problem as soon as possible. That will help you save higher costs down the track.
4. Have key templates ready
Get your key legal templates in place – but beware of 'free downloads'. Are the agreements appropriate for your business? Do they sufficiently protect your interests? Are they enforceable?
5. Beware of recycling contracts
If something is spelled out in an agreement or if some wording is missing, it is usually for a reason. Take care when using old or someone else's contracts.
6. Do you know what it means?
Understand key clauses relevant for your business and your risk appetite.
7. Protect your IP
Copyright vs patents vs trademarks? Ensure your IP is protected in places where you do business.
8. Pick up the books
Get familiar with 'Legal 101' – that is acquire a basic legal knowledge for your business.
9. Think outside the box
Explore all options with buying legal services, including LegalTech – not just the expensive lawyer in a suit.
10. Bang for your buck
Ensure you are getting the best value from lawyers / legal service providers. There are lots of great options out there that are within a start-up budget.
Want to know more? Contact Estefania Altuve or Matt Roberts from Client Solutions team, to learn about how KorumLegal can help you manage your risk and support your start-ups legal needs.
KorumLegal
Jan 24, 2019