The Future of Work: 5 Trends for the Legal Services Sector.
.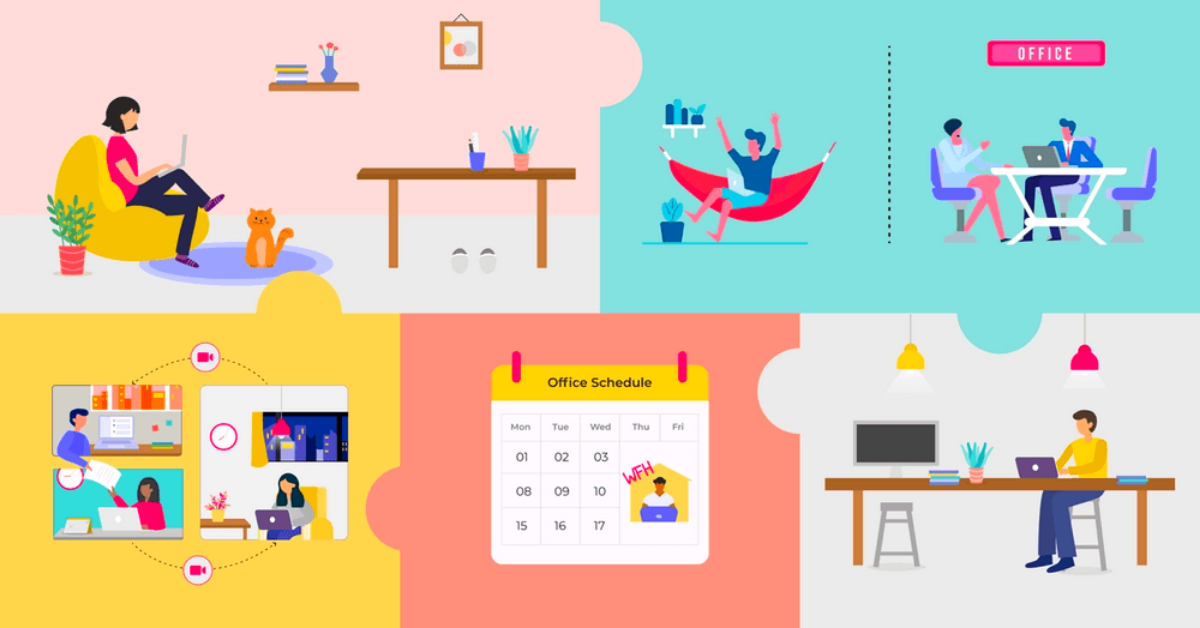 The pandemic has helped to shape the future of work. Now that the world has returned to normal, we thought it was timely to shine a spotlight on a subject that has become increasingly more relevant and important everywhere and particularly in the legal services industry – the future of work.

The pandemic has shown that remote work can not only be possible, but that companies can thrive through the adoption of smart technologies and efficient work practices to maintain, or even increase productivity. While there are differences in approach, when thinking about the future of work, there are some core elements that emerge – the need for flexibility, looking after employee well-being, and thinking more creatively about the office workspace and its purpose. When we look back at the prevailing work models that were common across most sectors before the pandemic – including the legal services industry - those three things were rarely, if ever, considered. If they were, they were certainly not key considerations. In this evolving landscape, staying attuned to the future of legal services and the ever-changing legal industry trends has become essential.
In the legal services sector, employee flexibility and wellbeing must form central planks in the legal service provider's operating model. Greater flexibility not only enhances employee engagement, satisfaction, and productivity, it also helps with the well-being of employees.
The 'hybrid' model is no longer the outlier
It is clear that for many organisations, the future of work takes the shape of some kind of hybrid model. A company would be foolhardy to insist that all employees return to the office all the time or most of the time. The sweet spot should be arrived at based on dialogue between employers and employees and agreeing what would be the best arrangement that enhances employee wellbeing, whilst allowing for productivity to be maintained at the same or higher levels. While many employers are still resisting the concept it's highly likely that hybrid models will continue to play a major role in the future of legal services.
According to a survey conducted by NFON, these are the key benefits from remote working:
Reduced company and employee expense (eg from office space and commuting costs)

Less absence and sickness

Positive impact on the environment, and

Increased staff wellbeing
For Company A, a model where most employees work from home 3-4 days per week will be optimal. For Company B, where in-person collaboration is considered more critical, this might take the form of most employees being back in the office 3-4 days a week. In the case of the legal services sector, many thought that law firms and in-house legal teams would struggle to adapt to remote working. And while there have been some challenges – eg junior lawyers feeling like they are not getting sufficient training, mentoring and guidance – for the most part, lawyers have adapted remarkably well to remote work practices. This was nothing new among ALSPs, many were already practising remote work practices, especially the legal consultants who work for ALSPs. So while this isn't completely new to those in the legal field its takeup among more traditional law firms has become an emerging legal trend.
It wouldn't be overstating it to say that the world of work, with the global mass adoption of remote working and digital technologies over the past 18 months, has undergone a massive sea change. New work trends and practices that would normally take years to implement, have been rolled out over a matter of months. Along with this, negative attitudes to remote working have also been irreversibly changed.
Five emerging legal industry trends shaping the future of work
In this article, we have seen that the future of work is already here. So, what can we expect in the coming months and years as we learn to adapt and adjust to this new kind of 'normal'?
In the context of the legal services sector, here are five emerging trends that spring to mind:
Legal Industry Trends: Remote working is here to stay.
Perspectives on remote working (including hybrid models of remote and in-person working) have changed for the better. Greater flexibility allows for enhanced employee well-being, satisfaction and engagement and provides companies with the ability to tap into a wider pool of talent when looking for new hires. Previously, this was something that would have been constrained by the need for the person to physically attend the office.

Legal Industry Trends: Embrace and accelerate digital transformation
The adoption of effective technologies and remote working practices to drive greater collaboration, efficiency and productivity will undoubtedly be a part of the future of work. According to a report from BVN and Cushman & Wakefield:
" The digital transformation of the legal workplace will have an impact on the types of spaces that are required to conduct work. While automated processes streamline some data processing tasks, it will allow more time for lawyers to problem solve and analyse the data. These tasks require different spaces such as individual focused spaces, collaborative areas, learning spaces and technology-enabled project rooms. "
Legal Industry Trends: Making strategic investments
iMaking investments in key areas of legal technology, IT, and security, and the training of employees required to support them, will form the bedrock of the budget planning process for any law firm, ALSP or in-house legal team. Law firms, for example, expect to increase their spend on technology to 6-10% of annual gross revenues in the next two years (from 2-3% previously) according to BVN and Cushman & Wakefield.
Legal Industry Trends: Rethink the office space
Think of the office as a place for nurturing creativity, collaboration and for the training, development and mentoring of employees, rather than simply as a physical space for employees (lawyers included) to plonk down their desktops or laptops to bang out work.
In its 2021 white paper, 'Shaping the Future of Work: Four Foundational Truths', Jones Lang LaSalle commented:
" A physical office reinforces culture, drives collaboration and innovation, enables professional growth, and brings a company's best to its clients and employees. "
The office will become a place where people will come together primarily to connect, build and sustain relationships, and to collaborate and be encouraged to come up with the big ideas.
Legal Industry Trends: Greater reliance on remote working software and collaborative tools
New technologies with improved AI capabilities, have the potential to help businesses enhance and transform their capabilities. It will also contribute to creating better and more customer centric solutions, and to allow colleagues who work remotely to feel that they are an essential part of the team.
As the MD of NFON rightly puts it:
" The key for small businesses is to ensure that they have the processes and technology to in place to enable seamless collaboration and communication, so that home working colleagues feel just as much part of the team. "[4]
Some final thoughts
The future of work is already here. While the jury is still out on where we will eventually land, this much is clear - based on the early literature, remote working and other variations of it, are here to stay. What shape it will take will vary and depend on the nature, size, and unique culture of individual organisations. What might be right for one company or industry may not necessarily be so for another. Each company will need to work out for itself what is the best arrangement to adopt – both from a business and employee perspective.
Sources:
Looking to the Future: Business Attitudes to Remote Working in a Post-Pandemic World (2021), NFON, p. 4.
The Future Legal Workplace: Designing for Resilience in the Legal Sector (March 2021), BVN and Cushman & Wakefield in partnership with Worktech Academy, p. 15
The Future Legal Workplace: Designing for Resilience in the Legal Sector (March 2021), BVN and Cushman & Wakefield in partnership with Worktech Academy, p. 15.
Looking to the Future: Business Attitudes to Remote Working in a Post-Pandemic World (2021), NFON, p. 5.
Danh Nguyen
Sep 28, 2023