Outsourcing the Legal Function
.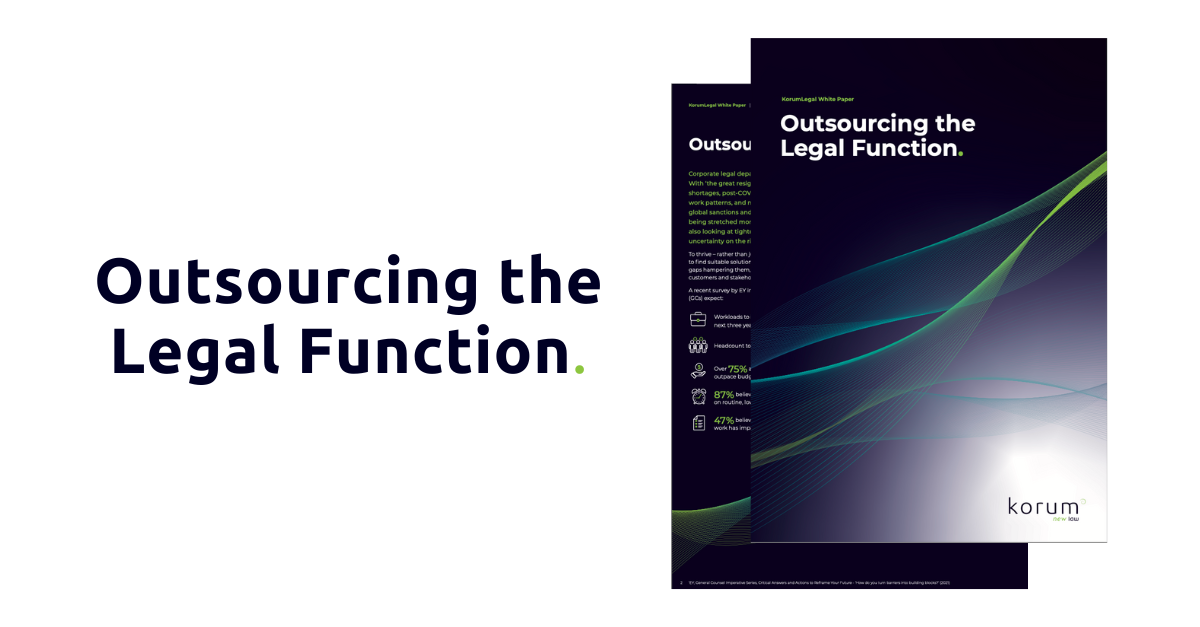 Corporate legal departments are under strain. With 'the great resignation', global labour shortages, post-COVID impacting workloads and work patterns, and new challenges presented by global sanctions and rising inflation, teams are being stretched more than ever before – while also looking at tightening belts with new waves of uncertainty on the rise.
To thrive – rather than just cope – legal departments need to find suitable solutions to fill the significant resource gaps hampering them, as they try to deliver to their customers and stakeholders.
A recent survey by EY indicates general counsels (GCs) expect:
Workloads to increase by

25%

over the next three years, yet

Headcount to only increase by

3%

Over

75%

are anticipating workloads to

outpace budgets,

87%

believe they spend too much time

on routine, low-value tasks

47%

believed that too much low-value

work has impacted morale.

1
The data is telling a story – that resourcing models of most legal departments are not sustainable if the trajectory of current trends continues.
Other common challenges and needs identified by legal teams and their leaders are:
Freeing capacity to focus time on strategic work that facilitate the organisation's commercial goals

Ability to call on specialist expertise on an 'as needed' basis

Team members being asked to do work not commensurate with their expertise level

Repetitive workstreams that are not always handled by the same person

Ready access to interim support or managed solutions to manage fluctuating work loads

Limited flexibility for additional headcount

Pressure on fixed costs

The escalating war for talent and 'the great resignation'

Anticipated static or reducing budget
One solution is utilising outsourced legal services.
The sector is undergoing significant changes and there are now more service provider options than ever, but outsourced legal services is underutilised, and the hurdles are dated perceptions and historical reluctance.
To find out more about how outsourcing could benefit you and enhance your legal function, get your hands on our latest white paper! In this white paper, we explore what outsourcing is, its benefits and how you can get started. We also encourage you to rethink how to better resource your legal function to meet today's corporate challenges.
KorumLegal
Jun 29, 2022