LegalTech Soapbox: Manage your legal transactions from start to finish with Legatics
.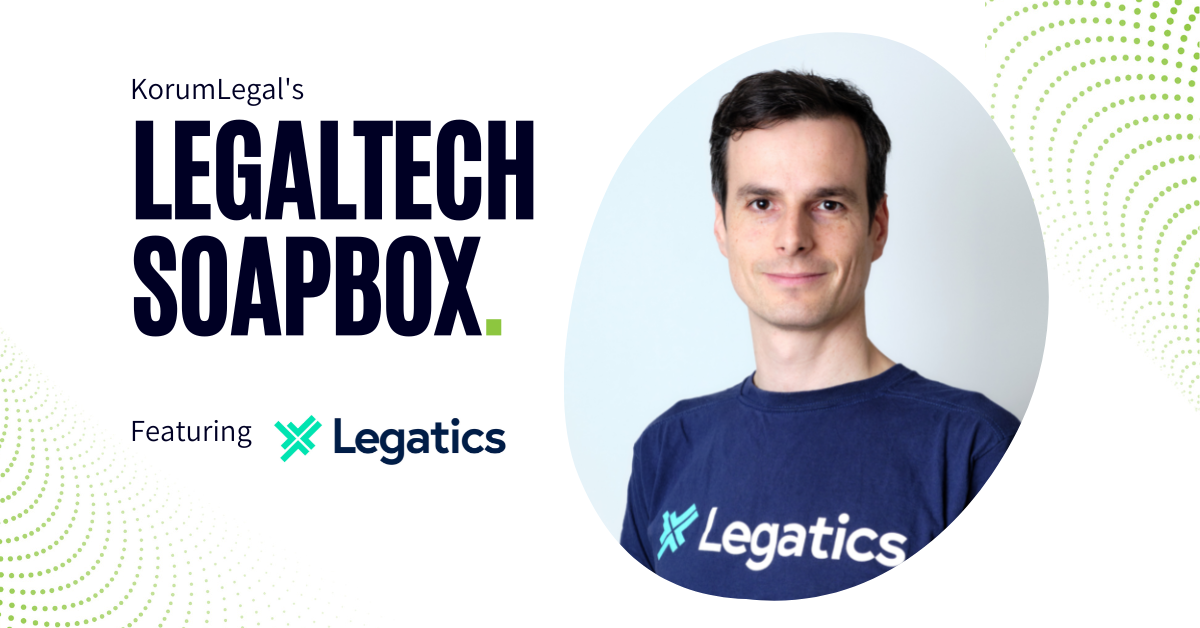 This month, we've got another LegalTech Vendor for you! Legatics - a transaction management platform. This user-friendly and secure platform saves time and reduces errors, providing clients with a transparent and streamlined experience. Say goodbye to legal transaction headaches and hello to Legatics!

1. Hi Anthony, could you tell us the story behind Legatics?
We founded Legatics to alleviate some of the burden of low- level work and overwork that faces the legal industry, particularly junior transactional lawyers. As a junior lawyer, I didn't always use the technical legal skills I'd learned at law school and I never felt I was getting as close to the underlying commercial motives of a transaction as I would have hoped. I felt like I was doing a lot of administrative work that didn't require me to be a lawyer and I was working quite long hours. The further I was from the heart of the transaction, the harder it was for me to accept a sub-optimal work-life balance, and my mind started to turn to how some of that menial work could be automated.
Today Legatics, our intuitive legal project management platform, enables legal teams to collaborate and close deals in an interactive online environment. Providing clarity, reducing risk, and saving time. Our software helps lawyers run digital, organised and efficient legal transactions, and we are trusted by the world's leading businesses and law firms – including many of the AmLaw 100, UK top 100 and Chambers Band 1 ranked law firms globally and have been used in over 60 countries.
2. What are the services/products that Legatics provides
Managing legal projects is hard work. It's even harder if you have work spread across lots of generic tools. It's easy to lose track of all the moving pieces – and it's tough to stay up to date. That's when things fall through the cracks.
Legatics offers law firms and in-house legal departments a single platform to organise these projects and meet their deadlines. Our software helps teams to plan, organise, and manage their matter or project, irrespective of whether it is a transaction, a merger or acquisition, or a liquidation, from start to finish.
Earlier this year we announced the launch of Legatics 2, the second-generation Legatics platform, which expands its capabilities beyond transaction management into broader legal project management. Our new platform simplifies legal project workflows and accelerates deal closure across a range of in-house and law firm departments, including Banking and Finance, Litigation, Capital Markets, Real Estate, Corporate and M&A, Regulatory, Employment and Restructuring.
3. How does it help optimise the daily operations of an in-house legal team?
Good legal project management software acts as a collaboration tool. It allows lawyers to coordinate documents and actions, so everyone knows what's going on and who's doing what. It also allows teams to share files, leave comments, and get real-time updates. This gives all parties in the transaction a complete view of progress and keeps everyone in the loop.
With Legatics, you don't have to use document management systems, word processors, spreadsheets, emails, and other tools to keep your matter moving. Instead, you can track and manage everything – from inception to closing – in one place.
The new features in Legatics 2 include:
Legal text importer: Creating lists is hard. It's even harder when you're trying to turn legal text into tables in Word. With our legal text importer, you can effortlessly transform any legal text – like warranties from your SPA or conditions precedents from your Facility Agreement – into structured digital checklists in seconds.
Signing view: Keeping your Word signing checklist synced with another list is a thankless task. With the dedicated signing view in Legatics, your data stays in sync. You can also set up your parties and signatories in advance of signing, then push that data to DocuSign, and watch in real time as the required signatures come through.
Template lists: With 40+ templates to solve a wide range of problems, flexible columns for customisation, and a simpler user interface, Legatics can be used across multiple practice areas to manage your projects from start to finish.
4. What do you believe will be the most significant change in how in-house legal teams use technology in the next 10 years?
To date, there has been little to no budget allocated to providing legaltech tools for in-house teams. In-house teams have, instead, been expected to use the systems and tools used by the rest of their organisation, rather than specialist tools built specifically to support legal processes and workflows.
However, the wider growth of legaltech, means that in-house teams have been exposed to, and can see the benefits that tech such as Legatics can bring. There is no doubt that there will be an increase in the number of in-house teams adopting tech tools to help them improve their processes, increase efficiencies and meet the demands placed on them by their internal clients over the next few years.

The natural migration of lawyers from law firms to in-house teams also means that when lawyers move in-house, there will be an expectation that these tech tools will be available, and these evangelists will be better placed to articulate the reasons why these tools are required and help support building business cases for investment.
KorumLegal
Mar 30, 2023