LegalTech Soapbox: Bigle Legal
.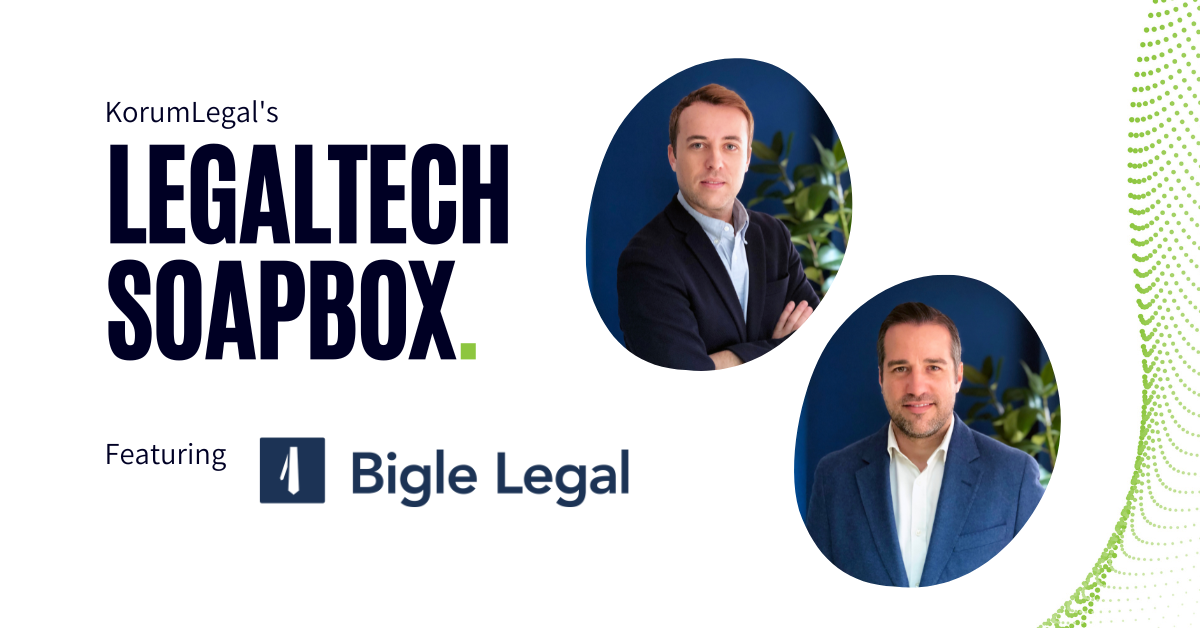 In this edition of the LegalTech Soapbox series, we speak to Alejandro and Sergio, co-founders of Bigle Legal, a contract lifecycle management software.
1. What's the story behind Bigle Legal?
Alejandro and Sergio Esteve de Miguel Anglada founded the company in 2017. On the one hand, as an experienced in-house lawyer who had worked for prestigious law firms such as Roca Junyent, Alejandro (current CEO) wanted to implement a solution to fill a need he experienced firsthand. Alejandro realized that too much time spent on repetitive tasks was compromising the productivity of his daily work, making it inefficient and insecure.
On the other hand, Sergio (current Co-CEO) had the necessary knowledge of the business sector to fit his brother's great idea: He had worked as a compliance and risk manager at an international level, so they both decided to start this adventure.
They saw an opportunity to create a cloud-based solution that would help large companies and law firms streamline their legal processes, such as drafting contracts or documents. One of the main goals was also to mitigate the legal contingencies of these companies. Since then, Bigle Legal is growing very rapidly, as we have become a reference software in Southern Europe, and we are working to continue growing at a European level.
In October 2021, we raised a €2 million investment round thanks to the help of our investors. It allowed us to expand our team, improve our solution and open our new office in London.
Behind the software, a highly competent team is bringing companies the most powerful and usable technology on the market.
2. What are the services or products that Bigle Legal provides?
Bigle Legal is a cloud-based Contract Lifecycle Management (CLM) software powered by Artificial Intelligence that automates the legal operations of companies, improving security and minimising the risk of legal contingencies. The platform is flexible, intuitive and provides full control over the entire document lifecycle.
Our all-in-one Contract Lifecycle Management software offers all the necessary services to cover the life cycle of all types of documents. This includes document automation, contract management and negotiation, intelligent workflows, advanced electronic signature, artificial intelligence and integrations with other platforms, software and databases.
3. How does the above optimise the daily operations of an in-house legal team/law firm?
Bigle Legal's software reduces document work time by 20 times, mitigates any risk of human error and gives legal teams full control of their legal operations. It also streamlines the process of working on documents between the legal team and the rest of the departments in an organisation.
Through a platform that brings together different technologies, legal professionals can automatically create documents, store them, send them for review and validation in real-time, collaborate virtually, negotiate, and collect electronic signatures. It also features certified email and cloud storage.
This gives legal professionals full control over contracts. The platform automates the creation of documents with approved templates, ensuring compliance of any drafted contract with the company's legal policies. The platform empowers any department to create documents themselves, reducing the time spent by in-house lawyers on trivial work.
Another of the main benefits of the software is legal contingencies mitigation for companies. The legal departments often have a very high workflow, which multiplies the risk of errors. The number of people involved in the validation process must be increased to preserve the correctness of the procedure.
The technology offered by document automation is the key to standardising, verifying and controlling these tedious processes whose non-compliance or slight deviation can entail very serious risks to companies.
Client satisfaction with the software implementation is consistent. They report that it is quick and smooth, thanks to the legal operations and customer success teams. In terms of the economic benefits the software brings to companies, figures show an average annual cost reduction of €135,000, thanks to time savings in document creation alone.
This is because the entire document process is completed 20 times faster than in the traditional way. Thus, companies save an average of 8,000 hours per year, practically eliminating repetitive tasks and unleashing the teams' creativity.
4. What do you believe will be the most significant change in how legal teams use technology in the next 10 years?
The world's leading brands already rely on legal technology solutions for their day-to-day work, and investment in this market is growing. With the extensive use of legal tech solutions, we believe that, in the future, legal teams will be able to work with 100% of their knowledge and versatility. Lawyers are tireless, detail-oriented professionals. We believe that thanks to technology, they will free them from paperwork and their more manual and inefficient tasks, to give way to providing great strategic value for companies.
In conclusion, the most significant change in the next ten years will be the adoption of new legal technology solutions that are here to stay, added to the cultural change of the legal area, being a traditional area, accustomed to the use of paper. Legal tech will be fully implemented in the legal sector in 10 years.
KorumLegal
Aug 29, 2022