LegalTech SoapBox: Accelerate and structure your contract review processes with Della
.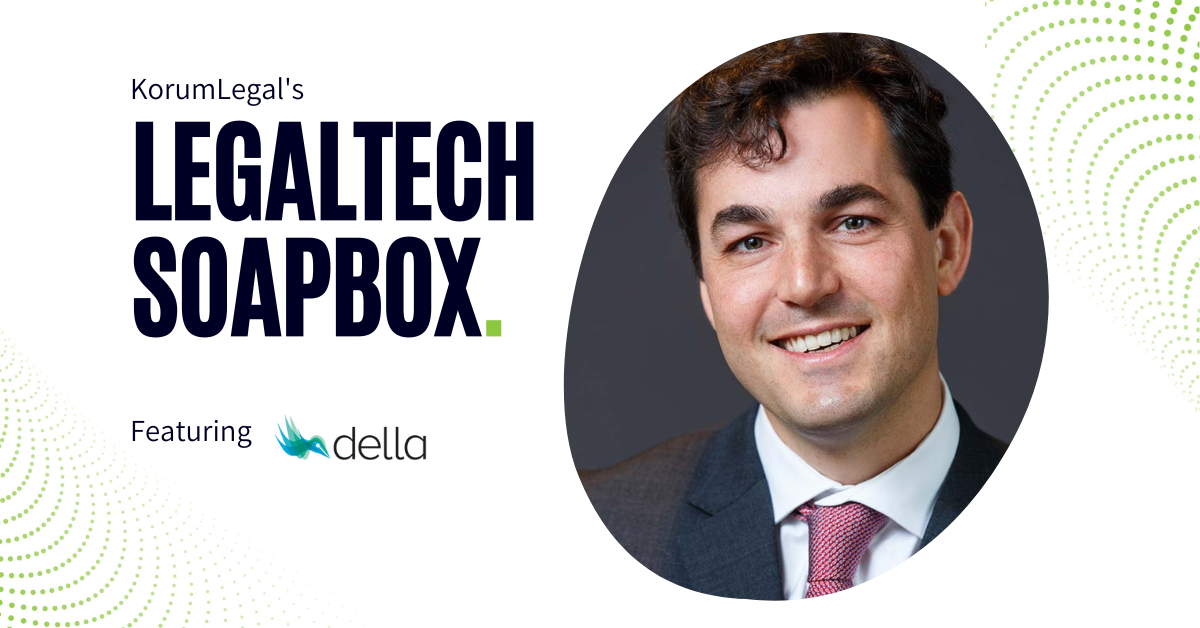 LegalTech is a priority for many GCs and we know it can be a little difficult to find the best tool for your department with a plethora of LegalTech tools out there. So we've been interviewing various LegalTech vendors and finding out what their tools are about and how they can help your legal department.
In this edition, we're talking about 'Contract Review' with Della's CEO, Christophe Frèrebeau.
1. Hi Christophe, why did you decide to start Della?
Nicolas Chauville and I decided to start Della because we believe that lawyers shouldn't be the only ones who understand contracts, and that we all need to know how contracts affect us. We all need to know what the risks are, who needs to do what, at what price, and what happens when things go wrong. We started Della to help people understand the importance of their contracts and to be able to access the information that was hidden easily. We have held onto that goal throughout the development of Della's AI and platform, and we believe we have built a solution that will transform the way the world interacts with legal documents.
2. What are the services/products that Della provides?
Simple to set up and easy to use, Della is supplanting established contract analysis and review tools, by offering everyone an intuitive way to review their contracts using the latest AI. While traditional contract review focuses on clause detection and data extraction, Della focuses on the questions people really want to ask of their contracts. Using our proprietary AI, Della allows users to ask questions in plain English (and other languages) and get clear answers. Quickly.
Our technology is primarily used by law firms and in-house legal departments, who need to speed up the manual review of contracts, either historically during an audit or at the pre-signature stage; but Della's AI can be used by anyone to help them save time and understand their contracts better. We believe we allow our users to focus on legal work, not paperwork or tech.
Our AI learns every time it's used, allowing users to review their contracts faster. In fact, it takes 10 mins for a new user to start using Della. Powered by massive language models* Della reduces time-to-value, while ensuring the use of a sophisticated contract analysis and review tool is achievable for smaller firms.
What does a 'massive language model' mean? Della's AI is built on a 'massively pre-trained language model', which understands how real people speak, taking into account the syntax and grammar of a query. Instead of many small models trained to detect specific clauses or data points, Della uses a single model, which has been trained on hundreds of thousands of questions and answers in over 100 languages to date, to perform in-depth analysis and review.
Our platform only launched in January (2020) but it is already being used by small and large law firms across multiple countries and several large multinational corporations. Those partners range in size, from top UK and European law firms to smaller boutique providers and enterprise organisations.
3. How does it help optimise the daily operations of an in-house legal team?
Della's unique, multilingual, artificial intelligence (AI) driven contract analytics platform allows lawyers, whether they are working in-house or as part of a law firm, to accelerate and structure their contract review processes. Our mission is to democratise the use of AI for contract review, so that negotiating and managing complex contracts is easier and more manageable.
Our platform's powerful AI core, intuitive design, and seamless workflow mean that we offer our users significant time savings from day one, with no set-up or configuration and minimal training required. Helping relevant members of in-house teams to review hundreds of third-party, multi-page, non-standard contracts in different languages quickly and efficiently, enabling them to identify potential risks or procedures, and drive efficiencies across their contracting processes.
Della is ideally suited to reviewing large and complex documents regularly and accurately, because our AI understands how real people speak and learns from each interaction a user has with our platform. Our users can identify multiple key data points, sometimes as many as 150 in a single contract, even if they are hidden amongst hundreds of legal documents. We can also provide an output, which might be a custom report or a summary, to help users to flag any concerns to relevant members of the project team, so they can react accordingly and make informed decisions on next steps.
4. What do you believe will be the most significant change in how in-house legal teams use technology in the next 10 years?
I think that contract analytics and contract lifecycle management will converge, as their aims are ultimately the same. Businesses need to understand what is in their contracts; so CLM systems need to be able to do the 'analysis' piece as a part of their onboarding process. Legal operations professionals will also continue to drive innovation in in-house legal departments. They will increasingly move away from improving departments and become strategic partners in redesigning the structure of in-house legal teams, and contribute to building the overall business strategy.
KorumLegal
Nov 29, 2022