GC Spotlight: Anu on future legal trends and why AI-powered tools won't replace lawyers
.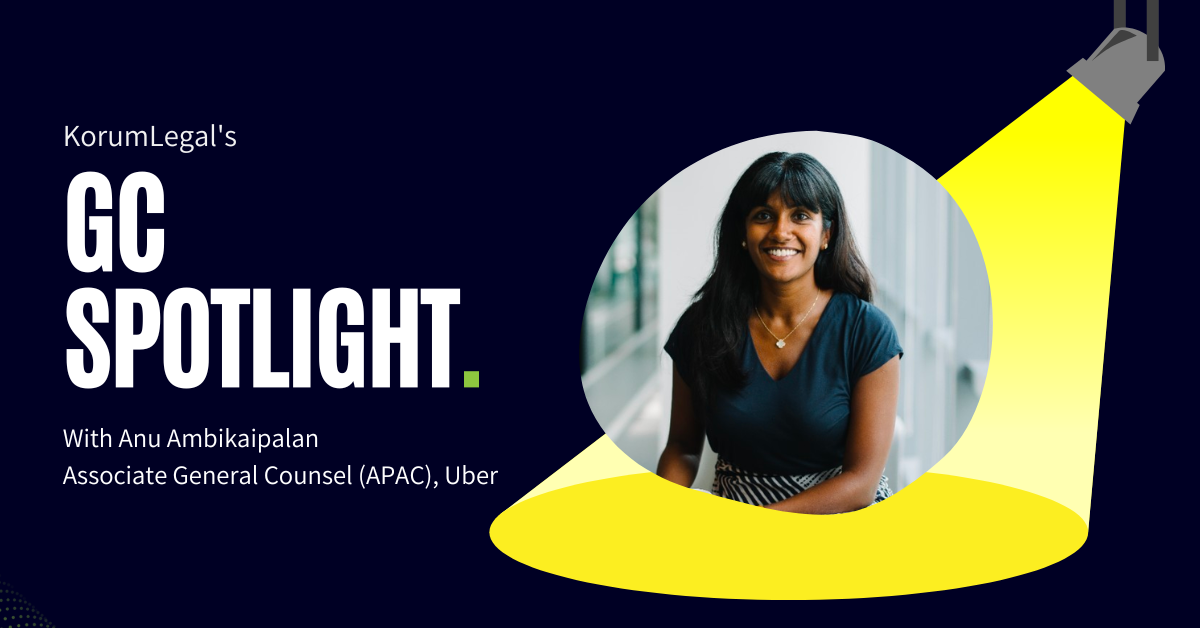 On the GC Spotlight this month we have the brilliant Anu Ambikaipalan, Associate General Counsel (APAC) at Uber. She started her career at Ashurst and worked her way up to Telstra and now Uber. Find out more about her in this Q&A!
1. Hi Anu, can you tell us a little about your current role? What excites you outside of work?
I am the Associate General Counsel at Uber for the Asia-Pacific region. I lead a team of over 40 lawyers and legal professionals across nine countries. My team is responsible for all legal issues arising in Uber's Mobility and Delivery businesses in the region - from corporate governance and commercial contracting, to high-stakes litigation and regulatory investigations. Prior to this role, I led Uber's APAC & EMEA Employment Legal team. Employment Legal at Uber is unique in that it not only deals with the usual HR matters, but is critical in solving the status question of gig workers in each of our markets - namely, are they employees or independent contractors. After more than seven years at Uber, I'm constantly challenged and love working with smart and collaborative team members and stakeholders.
Outside of work, I enjoy staying fit and reading. In the past few years, I've realised the importance of making time to do "non-work" things. During COVID, I got into lifting weights to improve my fitness and now I'm addicted. I like pushing myself to a new PB (personal best) and feeling accomplished at hitting a new goal. On the reading front, I enjoy novels and have found having a book (and wine!) club helps keep me accountable for finishing a book. I'm currently reading Interpreter of Maladies by Jhumpa Lahiri which is a collection of short stories about Indians in the US.
2. What do you think about the use of LegalTech, data analytics and process optimisation to improve your legal department's value?
I think about it a lot. We are a tech company after all. In-house lawyers are a finite resource so we need to be able to help the business move faster but in a compliant manner. One recent example we implemented at Uber is using machine learning to improve our regulatory compliance. In parts of Australia, we have regulatory reporting obligations which require us to notify the relevant transport authority about an incident within a particular time frame. Previously this was done manually by customer support agents who reviewed tickets featuring keywords which would trigger the notification obligation. This was a time consuming, manual process and prone to oversight or human error. We looked at how we could better automate the detection and triaging of notifiable incidents and implemented a ML model which reviews more tickets with similar or greater accuracy at a much faster pace for substantially less cost. It was a great example of our legal team connecting the dots on what technology we could use to improve legal compliance. We're now exploring rolling this out in other markets in APAC and globally where we have similar regulatory reporting requirements.
3. What trends do you expect to see in the legal services industry in the next 5 years?
I think the industry will be quicker to adopt AI-powered tools than it has been to other technology in the past. AI-powered tools will be used to reduce low risk/high volume work but also as an additional tool for issue spotting. While lawyers tend to do a good job at flagging the key issues, leveraging a fast, easy-to-use tool that contains a vast amount of information can either speed up that process or help sanity check thinking. That said, I don't think such tools will replace lawyers as strategic thought partners given their deep understanding of the business and the context of the issue at hand.
As a result of the use of AI on lower risk/high volume issues, junior lawyers will have different expectations of their jobs. It will be important for leaders and managers to stay on top of those evolving expectations to get the most out of young talent. It's also incumbent upon junior lawyers to be clear on how they think they can add value in light of existing and evolving technology.
4. Where do you see NewLaw/ALSP fitting in the matrix of your legal department?
We use alternative legal service providers regularly at Uber to dial up legal support during busy times. A good ALSP understands your business and team culture and can suggest someone who can hit the ground running. At Uber, understanding the complexities of our businesses and business model is critical. Partnering closely with ALSPs on a regular basis to share updates on how our business is evolving and the challenges we're facing means they are able to respond appropriately to our needs when we (quickly!) need some additional legal support.
5. In light of IWD, what advice would you give to your younger self?
I'd give myself two pieces of advice:
Be kind to yourself. I used to hear this often and didn't understand what it meant. As my career developed, I learnt that it was just as important to cheer myself on as it was to have high expectations about what I wanted to achieve in my professional life.

Keep a journal of experiences, reflections and learnings - even just a few words or paragraphs. I started this later in my career and wish I'd started earlier. I found it improved my self-reflection and memory recall but helped me realise how far I'd come.
6. Your favourite tune? And why?
I recently went to Harry Styles' Love on Tour concert in Singapore after hearing about him non-stop from a 17-year-old niece who is obsessed with him. That night, I joined the Harry fan club! So at the moment, I'm embracing my inner teen and listening to his Harry's House album on repeat.
KorumLegal
Mar 30, 2023
By: Satinder Sohal
LegalTech - What the Hack(athon)!
If you're familiar with the legal world, I'm pretty sure you have heard, seen, or read about LegalTech everywhere and how the capabilities of Law and Technology can be limitless. A great..
Read Article