All a Buzz at RISE 2018 – Asia's Largest Tech Conference
.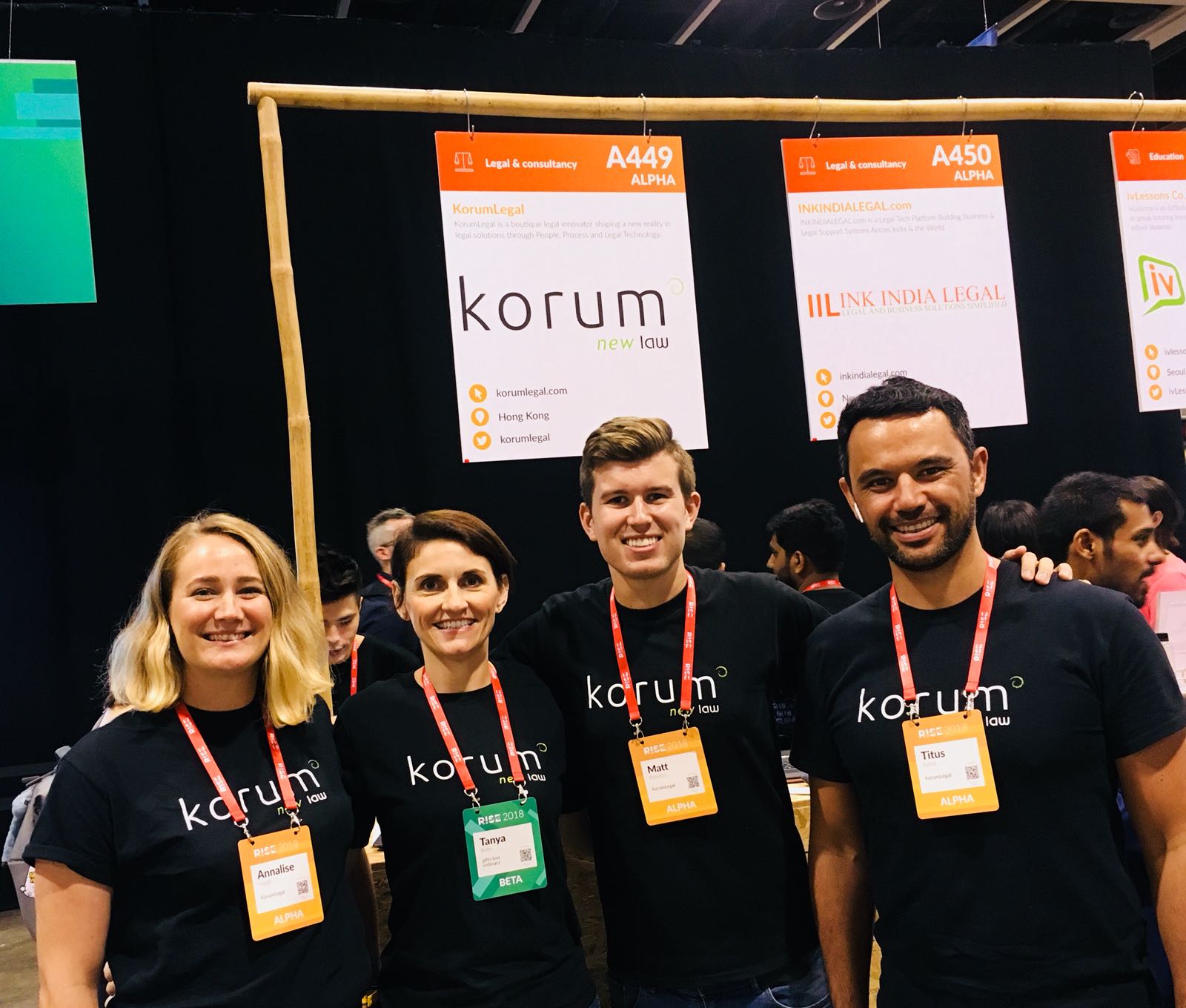 Earlier this month, thousands of tech enthusiasts from over 100 countries descended on Hong Kong for Asia's largest tech conference, RISE Conference 2018. The four-day event attracted thousands of people and hosted exhibitors and speakers from many of the most renowned and successful tech companies around the world. The KorumLegal team was there and here's a little overview on what we thought!
There is so much happening at RISE it's hard to keep up, but it does create an extremely exciting buzz for all who attend – day and night. There are the exhibitors, hundreds of start-ups and some SMEs keen to demonstrate their cool new tech and if they're lucky to grab a new client or even an investor(s!). Then there are the big guns, businesses like IBM, Google, Mercedes-Benz, Booking.com, Cathay Pacific, KPMG, HSBC, Siemens, Microsoft, Huawei… the list goes on! These "big guns" are here to show their tech capabilities but also look to support some of the smaller businesses. THEN… you have thousands of attendees! In amongst all these exhibitors and attendees there are start-up pitches, media events, mentoring, showcasing and then an incredible line-up of speakers, this year included Brad Smith, Chief Legal Officer and President of Microsoft, Tan Hooi Ling, Co-founder of Grab, Werner Vogels, CTO of Amazon, Sean Rad, Founder of Tinder and even Sophia the Robot from Hanson Robotics (just to name a few!). Moving to the evening, each night there is Night Summit and major sponsor drinks. The evening events are the major networking opportunities of the Conference, where ideas blossom and connections solidify! If you haven't picked up on the vibe already… it was buzzing!
But, was all this "buzz" worth it? Tickets are not cheap, particularly for the start-up community and even more for individual attendees (if your employer is not paying). In a nut shell, yes. KorumLegal was part of the Alpha start-up crew. We were given a booth for one day, located with other legal tech start-ups - definitely one of the smaller groups! The other days we had more time to visit other booths and listen to the speakers. It was a great opportunity and we were able to connect with some great businesses. Hopefully, there are lots of collaborations to come.
Something that's worth highlighting is the Conference's focus on Women in Tech, with one of its key aims being to build an inclusive and diverse tech industry. It offers a ticket discount and specific Women in Tech networking opportunities, mentorship programmes and an online Woman in Tech community. A great initiative and one we fully support.
One suggestion for those keen for next year's event (already set for July 8-11, 2019) - you need to go into the conference with the right plan and expectations. It's intense! You should have a good idea of what you want to do and achieve for each day (but don't be too rigid). And most importantly have fun! It's a great atmosphere so let yourself be swept up a bit – "nerd out" as I like to say!
Forbes penned the conference as "The best technology conference on the planet"… they obviously drank the cool-aide… but to be honest, so did we!
See you next year RISE 2019!
Annalise Haigh
Jul 25, 2018