Remote Legal Talent: 8 Key Advantages in Legal Practice
.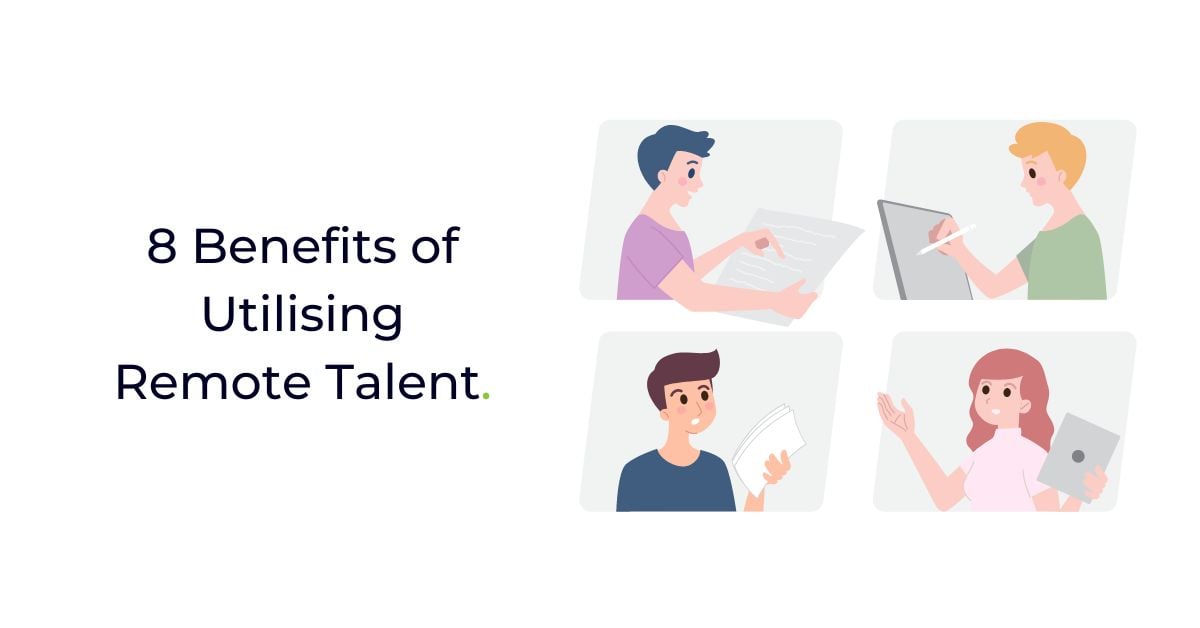 The covid pandemic restricted both social and professional mobility in a way that none of us would have believed possible three years ago and whilst most borders are now reopening, we are a long way from a return to the pre-covid world. In the aftermath of a shared global experience in which many of us became reliant on technology, we are now being reminded of the importance of people. In legal, a sector experiencing ever-increasing complexity and business demands, the need for people with the right skills is non-negotiable. More and more companies are turning to remote talent unconstrained by geographies to meet their changing needs.

In our regular conversations with customers and GCs around the world, the common theme over the last few months has been the difficulties of securing the right talent; we can vouch that the 'talent crunch' is real. Legal teams the world over are faced with increasing workloads as well as retention issues but are finding it extremely difficult to access the right people to do the work.
Great resignation or great re-evaluation?
We see both sides of the legal service equation in our business; talking to customers and understanding what they look for in their lawyers, and talking to lawyers and seeking to understand what they want out of their careers.

The 'great resignation' might not have played out in quite the dramatic way that many predicted, however, the data is quite clear that the legal services industry does have some serious headwinds when it comes to attracting and retaining talent. Look at any survey and the picture can appear quite bleak in terms of job satisfaction for lawyers and their desires to find new ways of working. The answer for many of these dissatisfied lawyers is to engage in more remote or flexible working; it doesn't necessarily mean working from a beach, but it does offer the ability to work from a location of their choice, avoiding inconvenient commutes, premium costs of city living and freeing up hours in the day that they would not otherwise have. While this style of working certainly brings benefits to lawyers themselves, working with remote legal talent can also be beneficial for employers.

As more and more lawyers choose this way of working, whether as a temporary alternative or a longer term career model; the outcome is an increase in the quality and number of lawyers available to work remotely and flexibly. The pandemic showed us that the remote talent model works, the technology is now tried and tested, and whilst many will choose to return to the office, the world has changed; remote work is here to stay.
Remote Legal Talent: An opportunity for legal teams (and lawyers)
Whilst a 'talent crunch' and 'great resignation/re-evaluation' represent real headaches for legal teams; they simultaneously offer an incredible opportunity to harness talent in a way that was quite uncommon pre-covid and a win-win scenario for everyone that works in our industry. For lawyers, remote, flexible engagement models offer a new way of working for those who want a change and a chance to do the work they enjoy in a structure that suits them better. For businesses open to using remote legal counsel, they have an unprecedented chance to solve resourcing issues by increasing their talent pool size many times over and reducing many of the procedural and practical difficulties associated with hiring locally.

We would therefore encourage any legal team that finds itself struggling with this talent crunch, to explore the benefits of engaging remote legal talent, whether as a short-term solution or something more permanent.
What are the advantages of engaging remote legal talent?
For GCs frustrated at the lack of options in their own local market, engaging remote lawyers can completely change the talent landscape and the way their teams work. Here are 8 reasons why:
The 8 Advantages of Working with Remote Legal Talent
Businesses should explore the advantages of engaging remote legal talent, enabling them to tap into a broader and more diverse pool of expertise. - imposing limits based on national borders or commuter belts simply decreases the chance of finding the right talent, when you need it. Opening the pool up can mean access to an otherwise unattainable breadth and depth of remote legal talent.

Greater flexibility - remote workers are generally more inclined to engage in flexible working patterns or short-term projects; many are happy to work across time zones and global teams can therefore make time zone differences work to their advantage.

Productivity - data suggests that remote workers are more efficient and productive, have greater job satisfaction and lesser absenteeism levels. On flexible assignments, they are really working, so their clients pay for output and results only.

Retention - using remote legal talent for short term spikes to ensure your core team can focus on the work they want to do and and manage their individual workloads can vastly improve employee retention and job satisfaction.

Diversity - with a bigger talent pool comes the opportunity for greater diversity in all its manifestations. Companies can work with remote talent across a range of jurisdictions and specialty areas providing unique viewpoints and specialty support.

Attractiveness - businesses that offer remote roles are undoubtedly becoming more attractive to potential new team members.

Cost control - if you are based in an expensive global location, engaging remote teams elsewhere can create a significant cost saving opportunity.

Ease of engagement - working with remote legal talent means avoiding many of the practical issues of bringing people across borders or onto site.
We at KorumLegal exist in order to provide legal solutions; for our customers, access to great legal talent, and for our consultants, a platform to find great work. We see and hear first-hand how the talent crunch is causing very real headaches for our customers across the world, but we believe this new paradigm should instead be viewed as an opportunity to do things differently. Businesses should explore the advantages of engaging remote legal talent, enabling them to tap into a broader and more diverse pool of expertise.
Rob Shakespeare
Sep 25, 2023
By: KorumLegal
We know that finding the right technology for your department with the plethora of tech tools out there can be confusing and difficult. Don't fret as we are introducing a brand-new series called the..
Read Article